Love Love Love this scent
I discovered this gem at Spirit of Christmas in 2022 where I purchased my bottle of Marrakesh. I just love wearing it, and I get so many fabulous comments. Its nice to have something that is not found on the high street and a little bit unique. Beautifully packaged and great customer service, the bonus is the 15ml bottle which accompanies the larger bottles which is perfect for travelling through airports or handbags. I really can't say enough about this amazing brand. Visited the stand again at Spirit of Christmas this year can't quite decide which scent I will try next!
After visiting the Chandrika Thomas London stall at many Wealden Times Fairs after being lulled into the marquees by the scent of Marakesh, my friend and I finally treated ourselves to a bottle each this year. The smell is amazing and packaging is just beautiful. Chandrika was so lovely and friendly and it has definitely been worth the wait!
Customer service is absolutely amazing. Chandrika sent lots of freebies to try, she's such a really lovely lady who is so passionate about what she does. Persian rose smells amazing! Marrakesh and Allure are just as amazing ! Can't wait to try the others. Thanks so much!
I have just ordered my first bottle of Chandrika Thomas perfume in the scent Marrakesh after stumbling upon the brand by complete chance!
I actually discovered the fragrance when I smelled it on a complete stranger in a restaurant, it was such a unique scent that I couldn't help myself and had to ask her where it was from! The lovely lady handed me the bottle out of her handbag and insisted I took a photo of it.
I'm so pleased to have discovered your lovely brand and can't wait for my order to arrive!
If you're looking for a unique but gorgeous fragrance, then look no further! x
This perfume is wonderful it is the nicest perfume I have ever smelled I only put one tiny spray on and the scent lasted all day long it is now my favourite replacing any perfume I had before smelling this.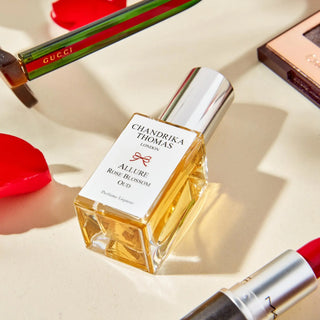 Enjoy a COMPLIMENTARY 15ml!
With every purchase, we delight in including a complimentary 15ml perfume, allowing you to embark on a personalised fragrance adventure and create a signature scent that truly embodies your unique style and personality